Jump to Recipe
Disneyland is known for their churros. Whether you are in Disney California Adventure Park or Disneyland park you are sure to see churro carts and the many different epic flavor combinations of churros Disney offers. So, Disney Pink Adventures and I are bringing Disney churros to your home for the holidays BUT in cookie form.
During Christmas time, Disney really steps it up with churro flavors. They offer flavors like "Santa's Cookies and Milk" and "Sugar Plum Candy". That got me thinking about what we could do to make our cookies not only taste like churros but also, taste like Christmas. And what better to pair with Christmas than Peppermint/candy canes! So festive.
These cookies are made using refrigerated pie crust as the base, sprinkled with cinnamon sugar, topped with the icing and crushed peppermint. The refrigerated pie crust is a game-changer for these cookies. They are flaky like a churro and only take 8-10 minutes to cook. These cookies are legit the easiest cookies to make and they were a big hit when I brought them into the office. Plus, they really taste like churros from Disneyland!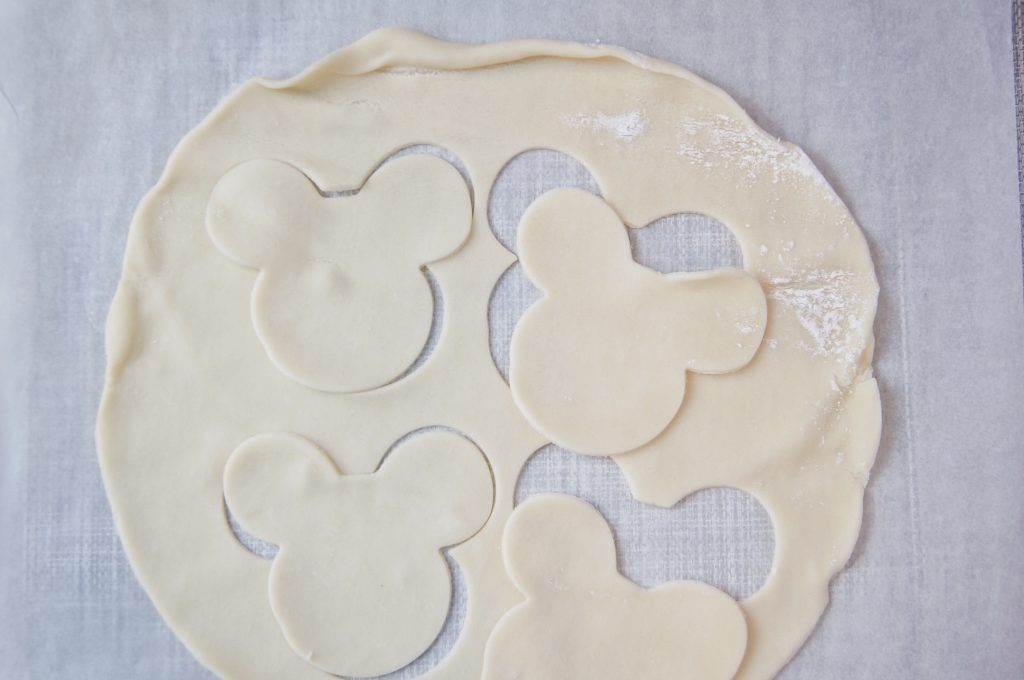 Tip: To avoid burning the cookies, watch them carefully. The package pie crust will list the cooking time (for the full crust) as almost double what it should be. Because the pie crust is cut into smaller pieces, the time to cook will be significantly less. So be cautious.
If you make our Disney Churro cookies, please let us know! Leave a comment or tag us on Instagram @thathangrygurl or @disneypinkadventures
Disney Churro Cookies
Disney churro in cookie form and topped with crushed peppermint for a Christmas treat!
Ingredients
2

pkg

refrigerated pie crusts (2 rolls per pack)

4

tablespoon

melted butter

cinnamon sugar mix

cookie icing (pre-packaged)

crushed peppermint candies

Mickey Mouse cookie cutter
Instructions
Tip: Make sure your dough is room temperature before you unroll to avoid cracking.

Place parchment paper down to unroll your dough. Use the Disney cookie cutter to cut your cookies.

Take the leftover dough and roll out to cut more cookies.

Place your cookies on a baking sheet lined with parchment paper.

Brush on melted butter and sprinkle with cinnamon sugar.

Bake for 8-10 minutes. Watch the cookies very closely to avoid burning.

Let the cookies cool for a few minutes before decorating with the cookie icing and sprinkle with crushed peppermint candies.