Jump to Recipe
My gift to myself last Christmas was a set of three cast iron skillets. I have wanted a cast iron skillet for so long, so I did some black Friday shopping and finally pulled the trigger on my purchase. The amount of different recipes you can make in these skillets are unreal! My Nutella stuffed skillet cookie is the perfect dessert to make in the 6" skillet pan. It is the best for a party of two on date night or just because. Nobody needs an excuse to have a cookie, am I right?
Although it is pretty self explanatory, I should explain what a skillet cookie is. A skillet cookie, often called a pizookie or skillet sundae, is a cookie that you bake in a skillet and top with ice cream. The most common cookie used in a skillet cookie is chocolate chip. The convenience of using one skillet and not multiple baking sheets to enjoy some cookies is definitely a plus for pizookies.
How To Make Nutella Skillet Cookie
The recipe for my Nutella stuffed skillet cookie is a little extra. I jazzed up the original chocolate chip cookie with some more chocolate by adding a layer of Nutella. The Nutella layer is in between the two layers of cookie dough. Resulting in every bite just oozing with melted chocolate and fresh chocolate chip cookies. Top it with vanilla ice cream and drizzle more Nutella on it and this cookie is going to be gone before you know it.
If you are looking for more simple dessert recipes, try my chocolate chip Oreo cookies or my caramel apple roll-ups.
Note: When baking the cookie, you want to make sure the cookie is baked all the way through. But the joy of eating a skillet cookie is the soft, gooey dough to give you the fresh out of the oven taste. So bake until golden and crispy around the edges but the middle should still be a little soft. Also, make sure you let the cookie cook down a bit before eating or you will burn your mouth on the piping hot Nutella layer in the middle.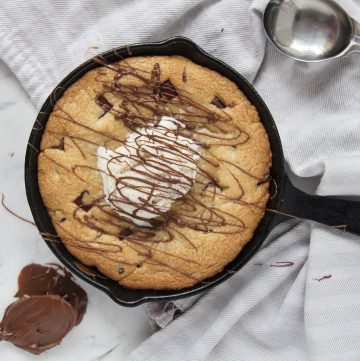 Nutella Stuffed Skillet Cookie
Nutella layered in between chocolate chip cookies and baked in a skillet. Served fresh out the oven, and topped with vanilla ice cream.
Equipment
6" cast iron skillet (for 2 people) bigger if serving for more people.
Ingredients
½

stick

salted butter

softened

¼

cup

light brown sugar

3

tablespoon

sugar

½

teaspoon

vanilla extract

1

large

egg yolk

¼

teaspoon

baking powder

3

tablespoon

Nutella

dark chocolate chunks or chocolate chips
Instructions
Preheat the oven to 350F.

Grease a 6in cast iron skillet.
Make the cookie dough
Beat the butter and sugars together with a mixer until pale and fluffy.

Add the egg yolk and vanilla extract and beat again until pale.

Add the flour and baking powder and mix until it forms a dough.

Mix in the chocolate and stir around until evenly distributed.
Skillet cookie
Spread about half of the mixture across the bottom of the skillet. Press it out well with your fingers to form a thin layer of dough.

Spread the Nutella on top of the dough using the back of a spoon. Be sure to leave a small border of cookie dough around the edge. .

Flatten out pieces of the remaining cookie dough in your hands first to make a larger piece to cover the top of the Nutella.

Press the dough on top of the bottom dough around the edge in the skillet.

Try pressing them together to create a seal to make sure that the Nutella doesn't get through while cooking.

Bake the cookie for 15-20 minutes until golden and crispy around the edges but the middle should still be a little soft.

Allow the cookie to cool for at least 15 minutes before serving so you don't burn your mouth on the Nutella inside.

Top with a scoop of ice cream and a drizzle with Nutella.