Jump to Recipe
Tacos! Tacos! Tacos! Who doesn't love tacos? Let me tell you about these Rotisserie chicken tacos though because they are on another level! They are so delicious and the chicken is so moist and when topped with all the goods...I promise you will be obsessed after trying this recipe.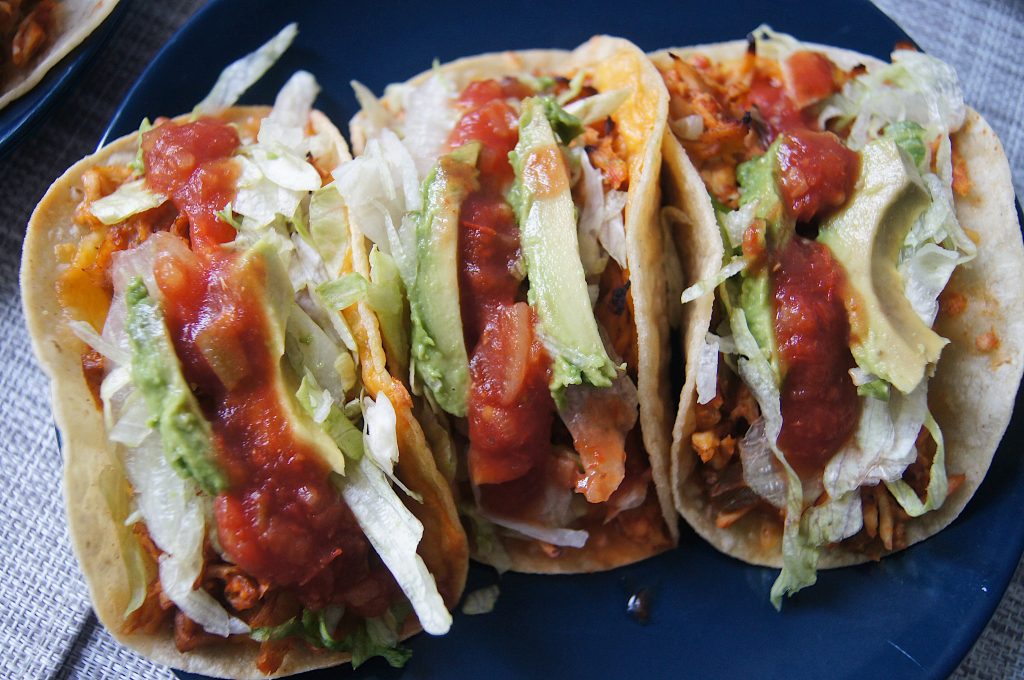 These tacos take 20 minutes to prep. Majority of the prep is because you start with a pre-cooked, store bought, rotisserie chicken and you have to remove all the meat from the bones. Once you have all the shredded meat in a bowl, add the salsa. Next, top the tortillas with cheese and the chicken mixture and pop in the oven for 12-15 minutes.
Once the edges of the tortillas start to turn brown, you can remove from the oven and add some more cheese and lettuce (optional). Then, fold each tortilla in half and place in a baking pan. Pop them back in the oven long enough for the cheese to melt and the tortillas to finish cooking (about 5 minutes).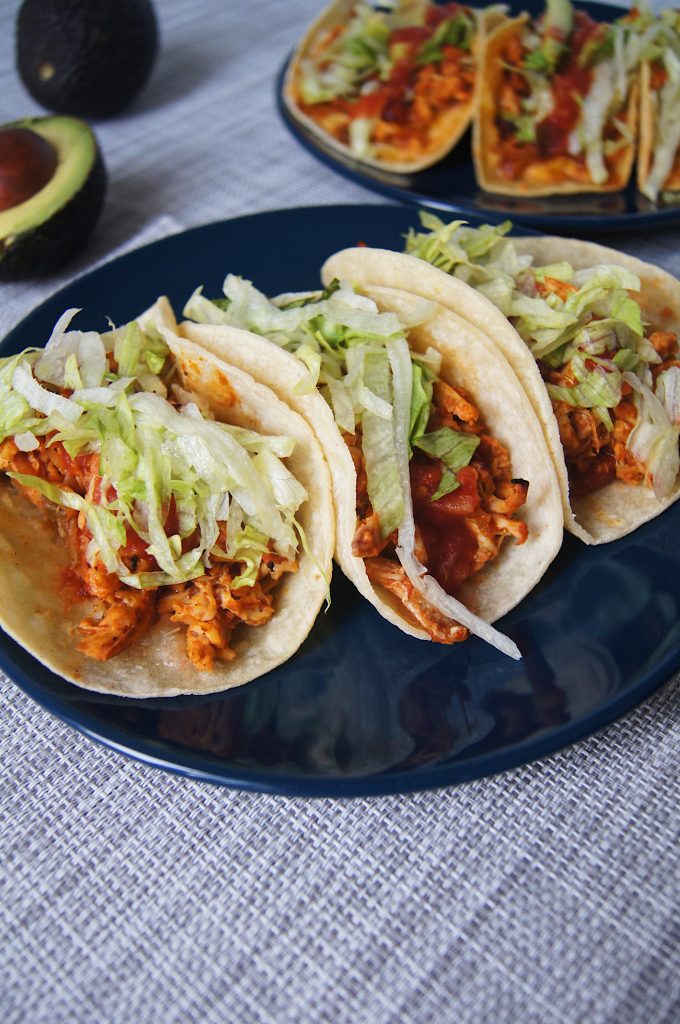 The tacos pictured were topped with lettuce, salsa, and avocado, but you can choose whatever toppings you desire. Serve immediately while they are still warm. I used corn tortillas which I think works best with these tacos, but flour tortillas can also be used. If you make these Rotisserie Chicken tacos, please let me know! Leave a comment or tag me on Instagram @thathangrygurl.
Rotisserie Chicken Tacos
Simply delicious tacos made easy with Rotisserie chicken.
Ingredients
1

Rotisserie Chicken

Remove meat from the bones

2

cups

Salsa

6

tablespoon

Olive Oil

12

6" corn tortillas

can use white or yellow

1

pkg

Shredded Mexican cheese

4

cups

Shredded Lettuce

Any toppings you may want to use: avocado, tomatoes, onions, sour cream etc.
Instructions
Brush your 2 sheet pans with half of the Olive Oil.

Lay out the tortillas (6 per sheet) and brush the tops with the other half of the oil.

Divide some of the cheese among the 12 tortillas.

Mix the shredded chicken with the salsa and divide the chicken among the 12 tortillas.

Place in the oven for 12-15 minutes or until the edges get a little crispy and the mixture is bubbly.

Remove the pans from the oven and top with cheese and lettuce (optional).

Fold each tortilla in half and place in a baking dish. All the tacos will stay folded when warm.

Turn off the oven and place the tacos back in for 5 minutes or until cheese is melted and tortillas are finished cooking.

Top with whatever toppings you want.